The Iceberg Metaphor

---
The Iceberg metaphor for culture shows a cruise ship sailing close to the iceberg for a look at this foreign territory. Part of the iceberg is immediately visible; part of it emerges and submerges with the tides, and its foundations go deep beneath the surface.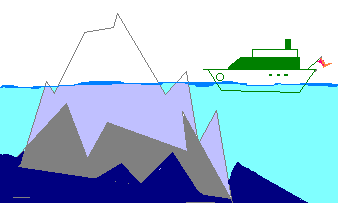 Above water line:
Aspects of culture that are explicit, visible, taught. This includes written explanations, as well as those thousands of skills and information conveyed through formal lessons, such as manners or computing long division or baking bread. Also above water are the tangible aspects: from the "cultural markers" tourists seek out such as French bread or Guatemalan weaving, to the conformity in how people dress, the way they pronounce the letter "R", how they season their food, the way they expect and office to be furnished.

At the water line:
The transition zone is where the cultural observer has to be more alert: "now you see it now you don't", the area where implicit understandings become talked about, explained--mystical experiences are codified into a creed; the area where official explanations and teachings become irrational, contradictory, inexplicable--where theology becomes faith.

Below the water line:
"Hidden" culture: the habits, assumptions, understandings, values, judgments ... that we know but do not or cannot articulate. Usually these aspects are not taught directly. Think about mealtime, for example, and the order you eat foods at dinner: Do you end with dessert? With a pickle? With tea? Nuts and cheese? Just have one course with no concluding dish? Or, in these modern times, do you dispense with a sit-down meal altogether? Or consider how you know if someone is treating you in a friendly manner: do they shake hands? keep a respectful distance with downcast eyes? leap up and hug you? address you by your full name? These sorts of daily rules are learned by osmosis -- you may know what tastes "right" or when you're treated "right", but because these judgments are under-the-waterline, it usually doesn't occur to you to question or explain those feelings.