We need to improve communication around here

---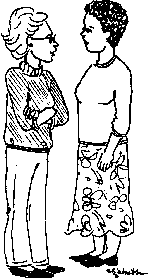 Ask any employee what they'd like to change about their company, and you're likely to hear "We need better communication around here."
Everyone around them nods in active agreement. But what are they agreeing about? What do they mean by this? It could be any number of things. Probing people's complaints about "poor communication" can lead to the core issues that need attention.
No one really understands my needs and ideas. (issues of respect and listening skills)
Some of us are left out of information loops or decision-making. (organizational structure issues)
The organization has levels and divisions that speak different languages (language barrier issues, class/education boundary issues)
People work alone or can't converse during work hours. (work organization issues)
Everything is put in writing; no one talks to me as a person (organization climate issues).
Nothing is put in writing; you have to have strong political networks to know what's happening.(organizational structure issues)
We have such different world-views that no one understands where I am coming from. (diversity issues)
We employees don't dare tell management what's really going on. (management style issues)
We managers don't dare tell employees what's really going on. (survival issues)
Next time someone says "we need better communication around here", ask them "Can you give me an example of something that's happened recently?"
Meanwhile, check out the other pages in this Communication section about the basic building blocks of communication -- language, messages, non-verbal, perceptions, writing, conversation -- that we use every day. They may give you a new perspective on the challenges of communicating in cross-cultural or conflict situations.